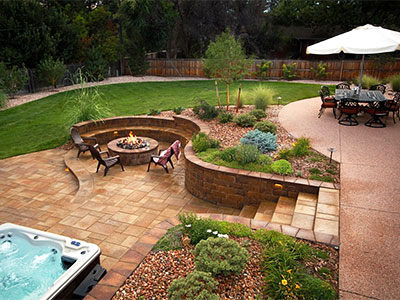 At Aspen Falls Landscape & Construction, we take pride in our lengthy history of delivering masterfully-crafted outdoor amenities to clients in the Denver Metro Area. Since 2005, we have managed to establish a reputation anchored on professional work ethic, unmatched creativity, reliable workmanship, and competitive pricing. We can handle all kinds of landscape design and architecture jobs with a level of skill that only the finest landscape practitioners have. With our comprehensive services, property owners won't have to hire multiple contractors to take care of their different property improvement projects. We have all the needed resources to complete challenging jobs and exceed client expectations. Call our hotline (303) 619-6416 to know more about our services.
Design
If you're searching for a reliable landscaping company to take care of the custom designs of your dream landscape or hardscape features, you've come to the perfect place. Among our strongest suits is in landscape design, and we have actually finished a great number of such projects across Denver. We guarantee careful selection of each landscape element or feature and then transfer them into the drawing boards. Our design team is armed with the most advanced design software that makes their job of laying out clients' landscape truly easy. We can assure you that the design we will create for you will include all the amenities that you need presented in ways you demanded for.
Architecture
We are also capable of creating sustainable and beautiful landscape settings for private and commercial properties. We have our own landscape architect who knows the perfect features and amenities to add in your landscaping project. Our team employs such industry-approved methods like xeriscaping to make sure that clients' landscapes don't require much water to keep the plantings healthy. We also use permeable paving that is considered as one of the best eco-friendly ways to beautify outdoor areas. In short, we will make sure that your landscape is a true nature-lover's haven.
Construction
Another facet of outdoor improvement that we're extremely good at is construction. We've handled numerous construction projects involving various landscape features in commercial properties and private residences. We have complete tools and equipment that are operated by our trained people. Our crews will ensure excellent construction of your outdoor amenities, whether it involves building a sidewalk or a courtyard. Our landscape installation services are also the best that you can afford, since we have installed countless water features, walkways, gardens, retaining walls, outdoor kitchens, and other exquisitely designed landscape elements. We follow local laws and industry-approved installation procedures so you're assured of a hassle-free construction. At Aspen Falls Landscape & Construction, we use only the finest materials in all our construction projects.
Hardscaping
In line with our construction expertise is our skilled handling of all tasks that has something to do with building extraordinary hardscapes. Our in-house personnel can design and build pool decks, gazebos, sitting walls, retaining walls, driveways, patios, and the like. We can come up with different hardscaping themes such as Zen-inspired, Mediterranean, European, Contemporary American, and Modern. These hardscapes can make your property not only attractive, but truly functional as well since they can extend your living room outdoors. We use durable and long-lasting materials when building these outdoor features and amenities.
Landscaping
We are easily among the state's best landscape contractors, having been in the industry for over 36 long years now. We can create one-of-a-kind landscape settings based on our clients' ideas and needs. We can handle all kinds of landscaping jobs in residential or commercial properties such as design and installation of fire and water features, plants, and outdoor living amenities. Our landscaping team includes professional designers, landscape architect, plant experts, and paver installers – all of whom are professionally-trained and industry-certified.
Retaining Walls
Retaining walls can make any outdoor space safe against possible soil erosion caused by heavy rains, strong ground shaking, or instability. Our trained crews can ensure proper site preparation using the right heavy equipment like graders and excavators prior to installing the retaining walls. Once the site is fully prepped, our crews will then put one block after the other following our proven installation methods. We use top-notch retaining wall blocks from trusted manufacturers like Belgard Pavers, so we can ensure the durability and aesthetic supremacy of the walls that we install. Rest assured that the walls we will build for you will last a lifetime in perfect beauty.
Fire Elements
Aside from water amenities, we can also create custom designed fire elements to balance things out in your yard. Such fire amenities will make staying outdoors during cold days and nights extremely comfortable and cozy. Some of the fire elements that we suggest to clients are fire bowls, fire pits, and fireplaces. Clients may choose from timber, gas, gel, and the like as fuel for their preferred fire feature. We promise to install fully functional fire elements that are also aesthetically-pleasing to contribute to your landscape's overall beauty.
Please call us now for more information on our value-for-money design and build services.