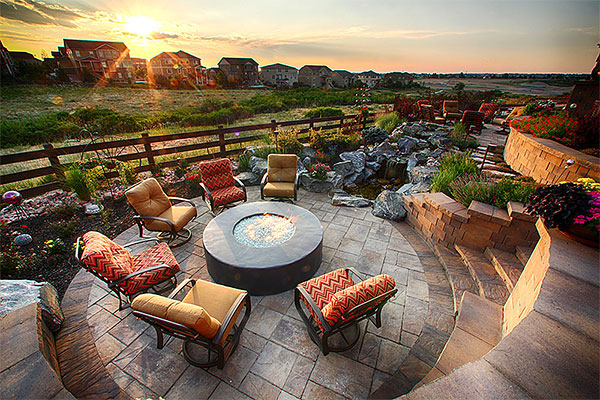 At Aspen Falls Landscape & Construction, we have been creating exquisitely designed fire elements for residential and commercial clients across the state. Each feature that we install is custom designed to satisfy the needs and design preferences of our clients. Since we are well-experienced landscapers, we know how to create the perfect fire features for your backyard or outdoor space. We may recommend an outdoor fireplace or a fire pit, depending on your current landscape setup. Don't worry about the installation cost since we offer our design and build services at client-friendly rates.
Custom-designed Fire Elements
If you want to make your outdoors truly the best place to hang out with family and friends, you should have custom designed fire features installed. The good thing is that we have constructed fire elements numerous times in the past, which make us highly skilled at installing them. Whether you need a large fireplace or just a small fire pit or fire bowl, our crews can install it for you following your design needs. We can go for modern appeal or settle for a subdued, Old World charm. Other design options like Zen-inspired and Mediterranean are also possible. There is no limit to how your preferred fire features can look, since we can always come up with a personalized theme. Your safety is also our top priority, so we always incorporate safety features in the design plan.
We carefully choose the location of your fire elements and add vital accessories to protect them from harsh outdoor elements. Some of the accessories that we highly recommend are fire screens, fire pit covers, fire pit pads, log racks and wood carriers, and fireplace tool sets. We can also add other landscape elements such as sitting areas, lighting fixtures, and water features.
Durable Materials and Accessories
At Aspen Falls Landscape & Construction, we make fire elements that can endure constant use and extreme weather conditions. We source our materials from the best manufacturers and suppliers – everything from boulders, stones, pavers, concrete blocks, and bricks. We've been using these materials in our projects so we can vouch for their quality and reliability. The accessories that we use on your outdoor fireplace and fire pits are also top-quality. We don't use or recommend subpar products since they will not last long when used outdoors.
Topnotch Fire Feature Installation
When it comes to installing fire elements for commercial and residential properties across Denver, nothing can beat us at Aspen Falls Landscape & Construction. We always ensure quality craftsmanship with every job that we handle, whether big or small. Our in-house installers are composed of seasoned craftsmen and artisans who share our passion for creativity and excellence. They can work on fixed fire features and portable ones for those who prefer such. They can install typical outdoor fireplaces, portable fire pits, as well as fire features with complete amenities. Moreover, our crews will make sure that each element is placed in its perfect location. We're always successful in creating extraordinary fire features that clients absolutely love and enjoy.
Call us today at (303) 619-6416 to discuss your project requirements or inquire about our rates.
Outdoor fire elements are a great way to extend the livability of your outdoor space into the evening. Light and warmth. In addition to physical warmth, outdoor fire elements add dramatic light and a welcoming invitation to a space.
Click on the images below to view a larger display.
Large natural stone fireplace on a beautiful flagstone patio flows harmoniously with its natural surroundings at this mountain home.

Adding a fireplace and evergreens to the backyard not only is functional, it gives the homeowners yard the privacy that they desired.

Boulders give this fire pit a true rustic feeling of being in the mountains with a camp fire burning.

Surrounded by sand, this in the ground fire pit gives the vibe of a bonfire on the beach.

A natural stone wall acts as the perfect outdoor seating area for you and your guests to enjoy the soothing sounds of a running waterfall and the warmth of a crackling fire.

Whether you`re cooking hot dogs in the summer, roasting marshmallows in the winter or simply enjoying the subtle warmth of the fire, this stone-surround fire pit makes being outside any time of the year a truly enjoyable experience.

There is a certain romantic ambiance that surrounds an outdoor fireplace. The glow of the flickering flame invites guests to sit down, relax and enjoy life.