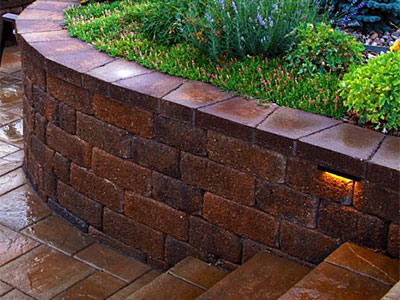 Our company can help you achieve a more functional, safer and more appealing outdoor space by installing carefully designed retaining walls. We are the right contractor to hire since we have lengthy experience in designing and installing retaining wall systems for residential and commercial properties. Our clients are guaranteed of well-thought-out design plans, outstanding workmanship, and client-friendly pricing. We have seasoned professionals and certified retaining wall installers so you are hiring highly qualified people. Our custom-designed walls are proven long-lasting since we use only the finest materials available. If you're from the Denver Metro area, contact us right now at (303) 619-6416. You may also visit our office at Centennial, CO to personally discuss your ideas, plans, and allotted budget for the retaining wall project.
Installers of Modular Retaining Walls
At Aspen Falls Landscape & Construction, we highly recommend the use of modular retaining walls because of their excellent features and qualities. For one, the segmental or modular type is easy to install and maintain. A small retaining wall project can be completed in a day or two because of the innovative features of the modular wall system. Customization is also easy since modular blocks are available in a wide range of designs and themes. You may choose the popular Old World theme or a much modern design to suit the architecture of your home. We can also use your walls to create new functional spaces such as decks, sitting areas, pathways, and other landscape features. Your garden areas will be more interesting if there are tiered garden walls and planters made from carefully designed modular wall blocks. These features can also change the mood or ambiance in your landscaping.
Moreover, modular and block retaining walls are perfect for hilly areas and properties with uneven topography. When installed by professionals like us, the structures can resist extreme soil pressure and endure harsh outdoor conditions. Soil erosion will be kept at bay if you have these structures in your property.
Trust the Retaining Wall Experts
All types of retaining walls should be tough and built according to industry standards. We discourage property owners to install them in a DIY manner since poorly designed walls may sag, collapse, or cause soil erosion. This can result in massive damage to landscape features and other permanent structures in a property. For experienced contractors like us, we always consider critical factors before we proceed with the retaining wall installation. We prepare a carefully designed plan to ensure the reliability of the structure when installed. Our client's ideas and design preferences are also included in the design plan. Proper site preparation is also crucial in the stability and longevity of the retaining wall. We only use specialized tools and heavy duty equipment when working on this particular hardscaping project. Our equipment inventory includes graders, excavators, back hoes, trucks and other specialized tools. Lastly, we follow the local building code and adopt industry-approved installation standards to give our clients structurally sound walls that can last a lifetime.
If you want reliable retaining walls that are also functional and appealing, call us now at Aspen Falls Landscape & Construction.
See our fine collection of segmental block retaining walls.